We have a plan, and it's been implemented. Let's see where we are now…. first, let me quote from the show The Fantasticks…"Plant a radish, get a radish, not a brussel sprout….".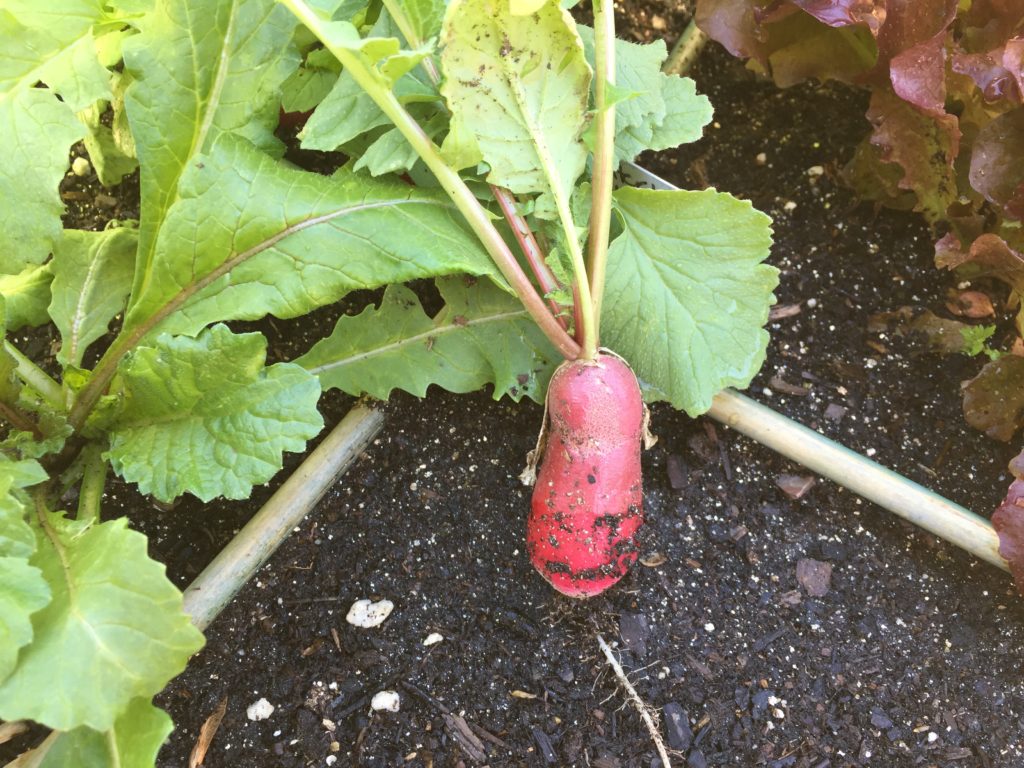 So we planted a radish and here's what we got – isn't it beautiful? Tasted good too! Now, on to summer planting!
One problem. I can't very well plant in the bed with the wicked fire ant infestation that has developed over the past week or so. They're just dreadful!
Are you itching yet? Never fear – I found a solution and it's organic!
Enter spinosad. We used this one from Amazon (because I couldn't find it locally)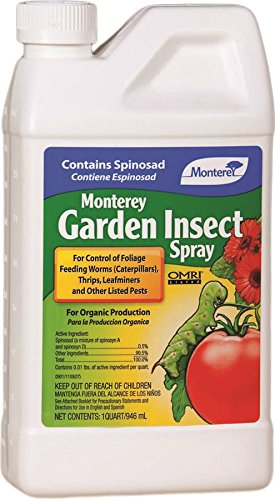 From the description for those interested:
Spinosad is a relatively new insect killer that was discovered from soil in an abandoned rum distillery in 1982. Produced by fermentation, Spinosad can be used on outdoor ornamentals, lawns, vegetables and fruit trees, to control caterpillars, thrips, leafminers, borers, fruit flies, and more. Spinosad must be ingested by the insect, therefore it has little effect on sucking insects and non-target predatory insects. Spinosad is relatively fast acting. The pest insect dies within 1 to 2 days after ingesting the active ingredient. Will not persist in the environment. Sunlight and soil microbes break it down into carbon, hydrogen, oxygen and nitrogen. Classified as an organic substance by the USDA National Organic Standards Board. OMRI Listed for use in organic production.
Anyway, two ounces of this in two gallons of water poured over the mound did the trick! They're gone in hours. LOVE this stuff! I'll report back on whether they stay gone.
So – now we're getting there – ants gone, plants purchased from Country Boys (tomatoes, peppers, eggplants, cucumber) and ready for planting. Seeds picked out and planned too.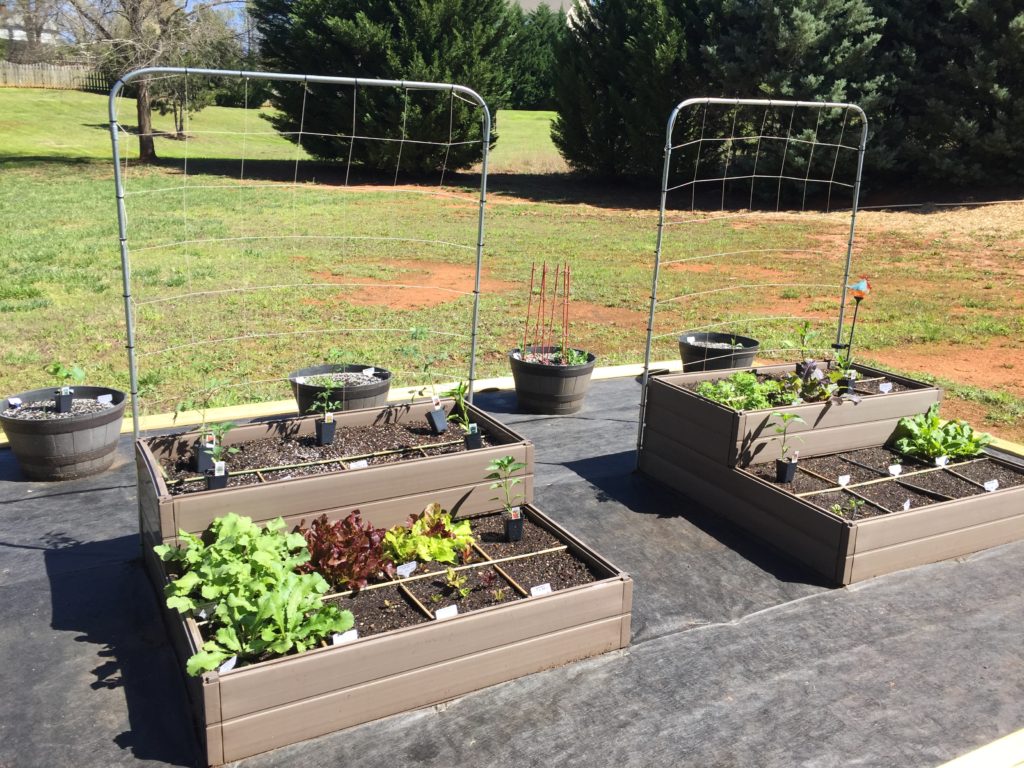 Right bed below – new plants:
Melon Noir des Carnes
Burpless Cucumbers
Japanese Long Eggplant
Fairy Tale Eggplant
Arugula Wild Grazi
Hot Sunset Pepper
Tat Soi
Strawberry Spinach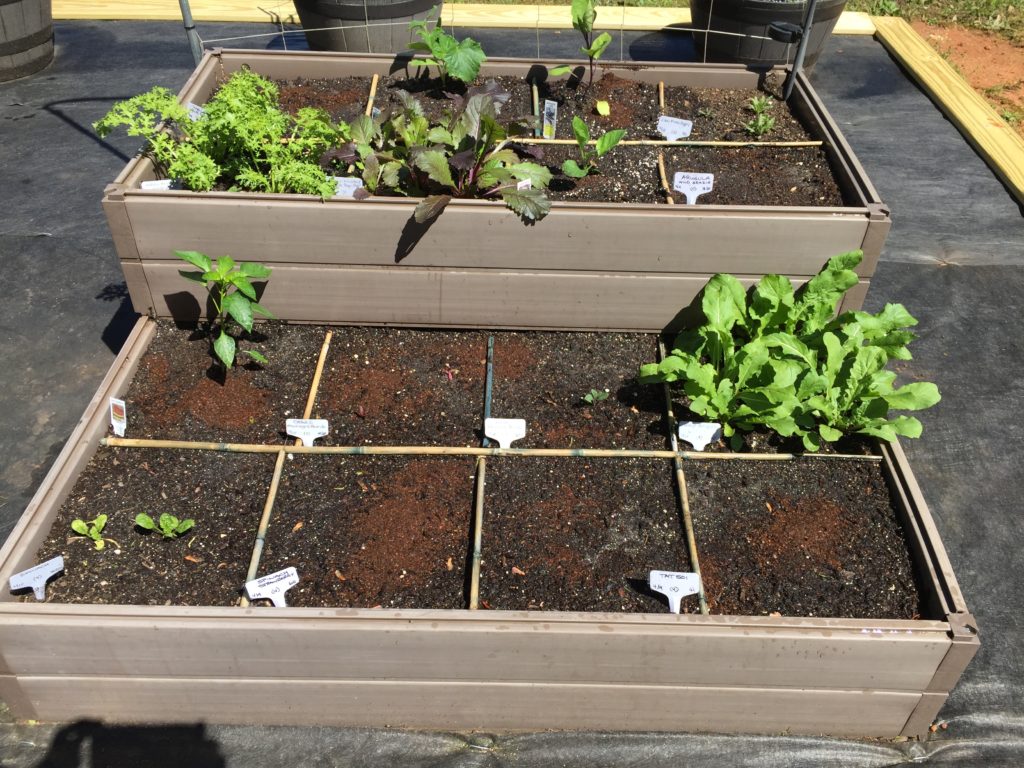 Left bed – new plants added:
Country Taste Tomato
Sungold Cherry Tomato
Hillbilly Tomato
Fooled You Pepper
Chiogga Beets
Touchstone Gold Beets
Purple Beauty Pepper
Pimento Elite
Pepper Little Bells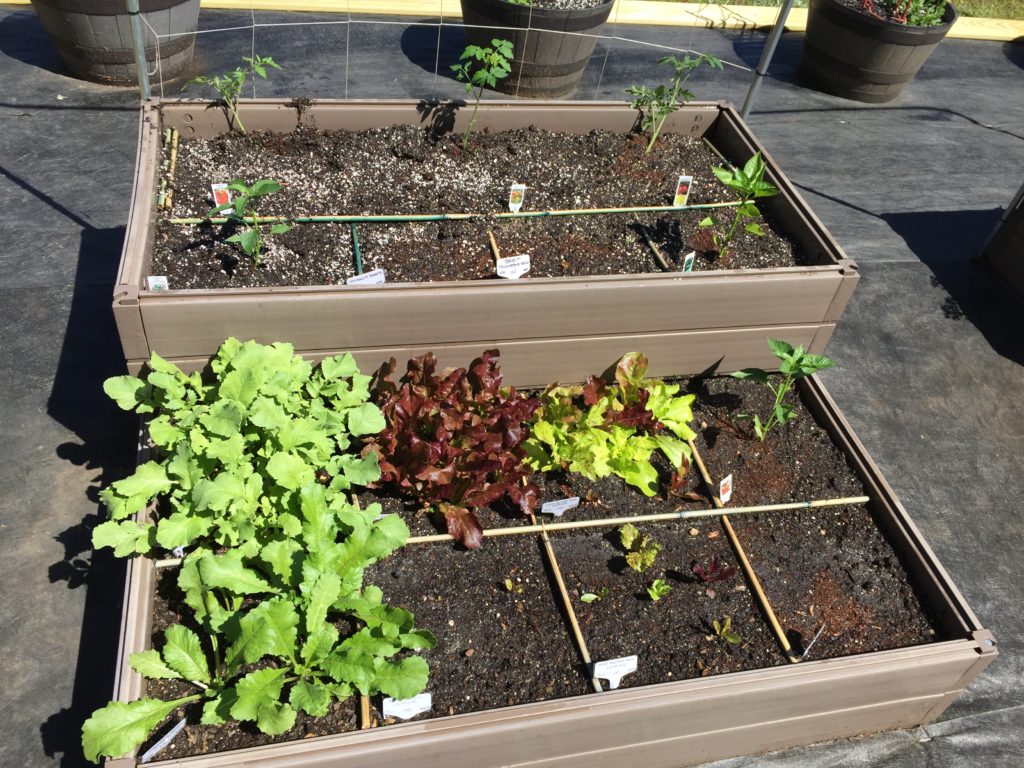 The brown stuff on top is worm castings. I forgot to put them under the plants, so sprinkled on top and watered in. Also added a zucchini (Crostata Romana) to the pot currently containing leeks and onions.
Finished product: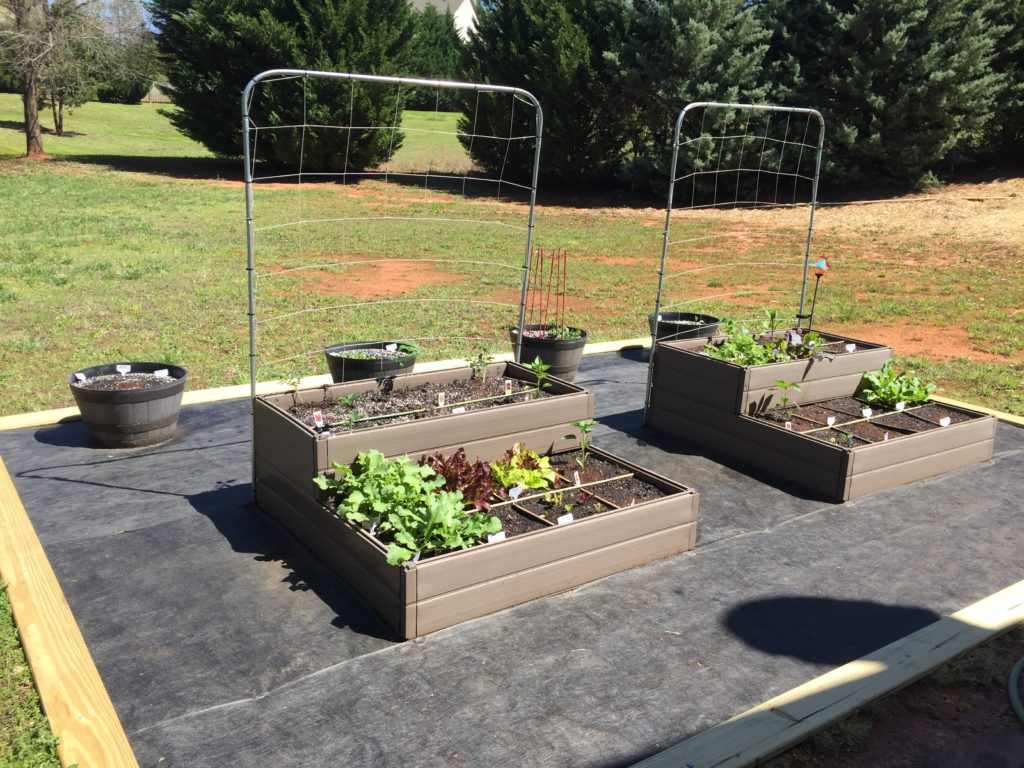 You might notice that we added boards all around the edge of the landscape fabric. We figured out this is how we're going to keep the lawn mower from chewing up our fabric. These are 6×16 pressure treated boards that are predrilled and nailed with super giant nails into the ground. Should do the trick.
Now – lettuce for dinner tonight!